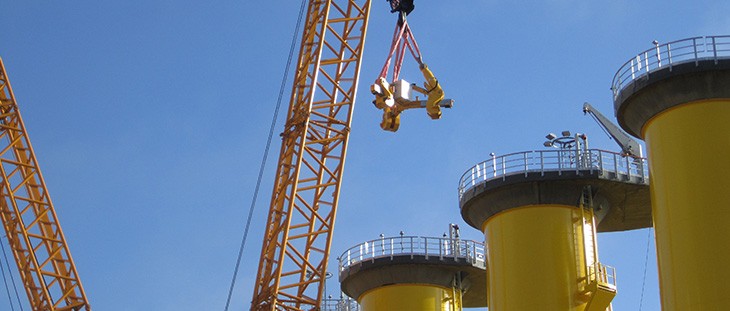 Lifting of Transition Pieces (TP) with adjustable hydraulic yoke.
This newly developed hydraulic yoke will have you ready to lift the Transition Piece (TP) in ten minutes. Furthermore the construction of the yoke makes it adjustable – thereby moving the Center of Gravity (CoG) and obtaining equilibrium when lifting the Transition Piece (TP).
The hydraulic TP yoke will optimize the process of handling, loading and mounting the transition pieces for offshore wind turbines substantially. With quite high operational costs when mounting offshore wind turbines, the benefits with the TP yoke are obvious:
Time saving – ready to lift in ten minutes
Adjustable Center of Gravity (CoG)
Ergonomically correct rigging
Substantial savings in operation time and costs
The hydraulic TP yoke is provided with extensive documentation and/or DNV, GL approval.
Our technical department offers advice as well as supplying customer specific modifications.
See a TP yoke in action:

Watch one of the newest TP Yokes be load tested at 900 tons: